Alicia Framis
︎ Wear the message, 2020
︎ Is my body public?, 2018
︎ Absalon in Cuba, 2017
︎ Antidog, 2002/2003

Her work focuses on human existence within contemporary urban society. She develops platforms for creative social interactions, blending architecture, design, fashion and performance, creating a tool where art brings people together.
She is introducing new ways of demonstration for women to fight for equality in silence.


/Wear the message, 2020
Canvas ready to wear, made with airbag material and ballpoint pen, 10 ratchets, 2 boots and 2 gloves
120 x 120 cm, each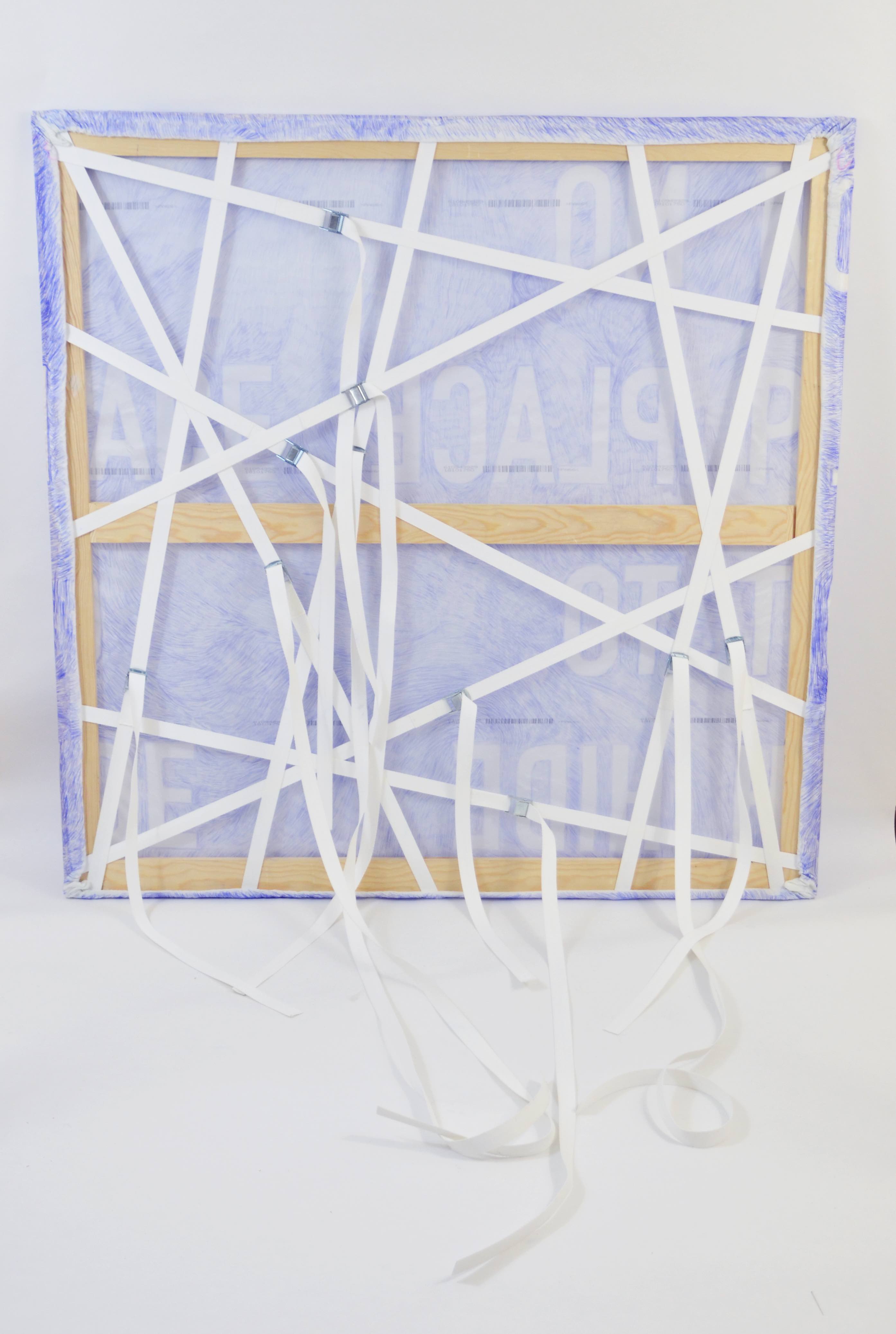 Framis reminds us how important it is to dress with a message, she invites us to action. The vulnerable message that the dresses shown here express, is almost like being naked. Today more than ever we need dressed up banners to give our point of view on what is happening in the world, and to fight for our future and conditions of life on Earth.
Not only are the paintings an expression of our being, of a vital moment in our life, but they are also a way to express that art must be a way to socialize with others and be part of a discourse that concerns us.

Images are courtesy of the artist
//Is my body public?, 2018

Transparent fabric and ink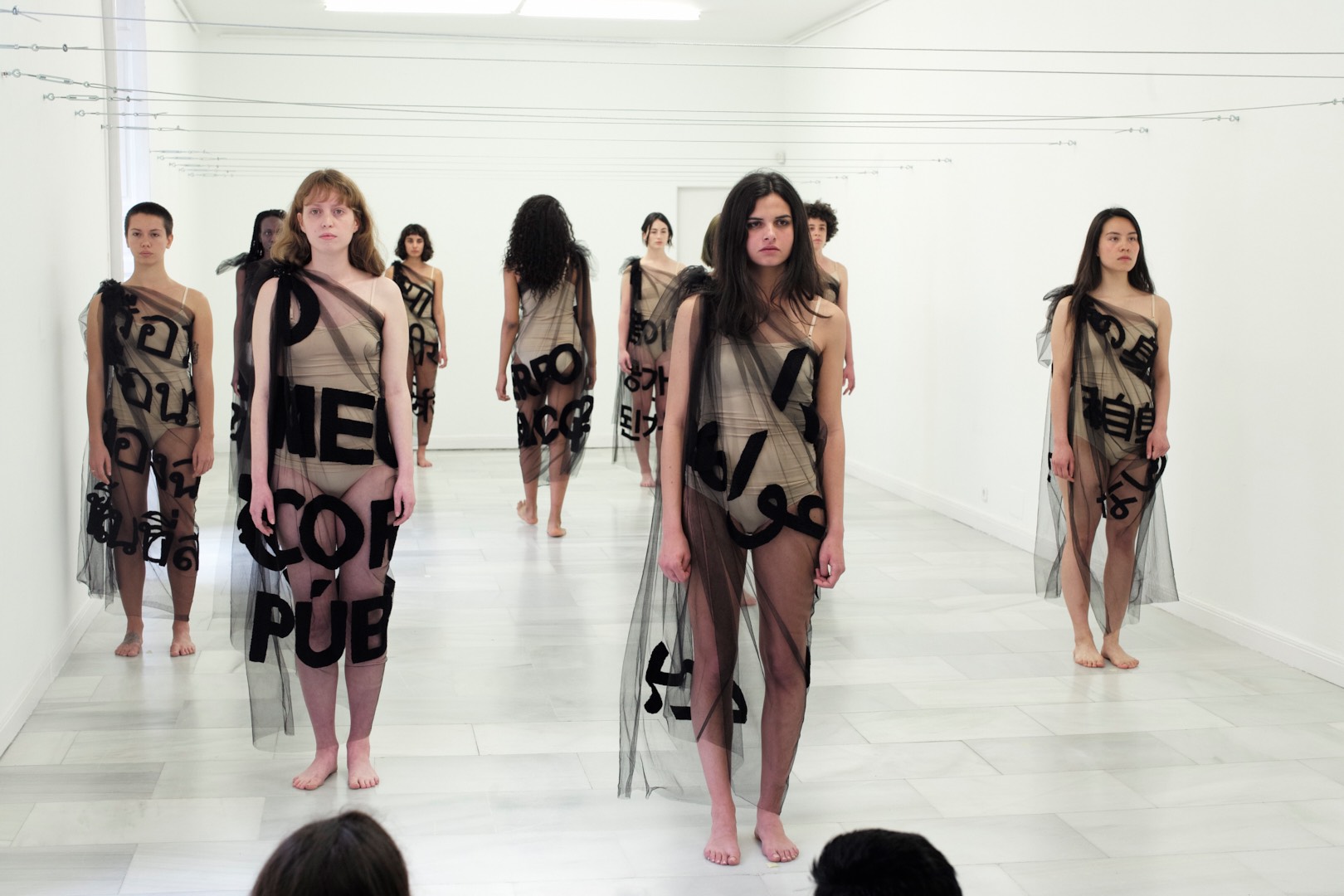 Performance by 15 girls with 15 sentences at Juana de Aizpuru Gallery, Madrid


The dresses are made from thin transparent fabrics, but are at the same time banners for public demonstration and used as such.
They carry a strong message embroidered onto them. "Is My Body Public" is the question asked on each of the 15 dresses, in 15 different languages. With this project, Framis wants to represent an issue that women deal with worldwide. The dresses a tool for them, to explore different, playful ways of demonstrating important issues such as (systematic) sexism.
The collection is used actively in a performance demonstration. By working together with women from different backgrounds, when performed the project gains a participatory and global character.

Performance by 14 girls with 14 sentences at Upstream Gallery, Amsterdam


Images are courtesy of the artist and Maarten Nauw

///Absalon in Cuba, 2017

A dress made of 570 aluminium scourers

(The artwork consist in two photographs, each of mesures: 112 cm x 152 cm)





This dress is made out of 570 nanas (aluminium scourers) to direct attention to the current state in which women live in Cuba.
The act of making a dress of lullabies for a month has been for the artist the absurd act of protecting the unprotected. The lullabies in this dress are the absurdity of the impossibility of protecting oneself in a house without protective laws regarding women. To find security between the walls of the house, like the elephant that hides behind the mouse to mislead its enemy, women protect themselves in their kitchens with scourers, nails and teeth.

"The image that is sold of Cuba as an egalitarian society is only a mask for the terrible reality. " Anonymous Woman


////Antidog, 2002/2003

A collection of 23 garments made from Teijin Twaron, a dog bite-proof, fire-proof and bullet-proof fabric; performed in 2002 – 2003, with fashion-demonstrations in Paris, Amsterdam, Madrid, Birmingham, Helsingborg, Barcelona, Venice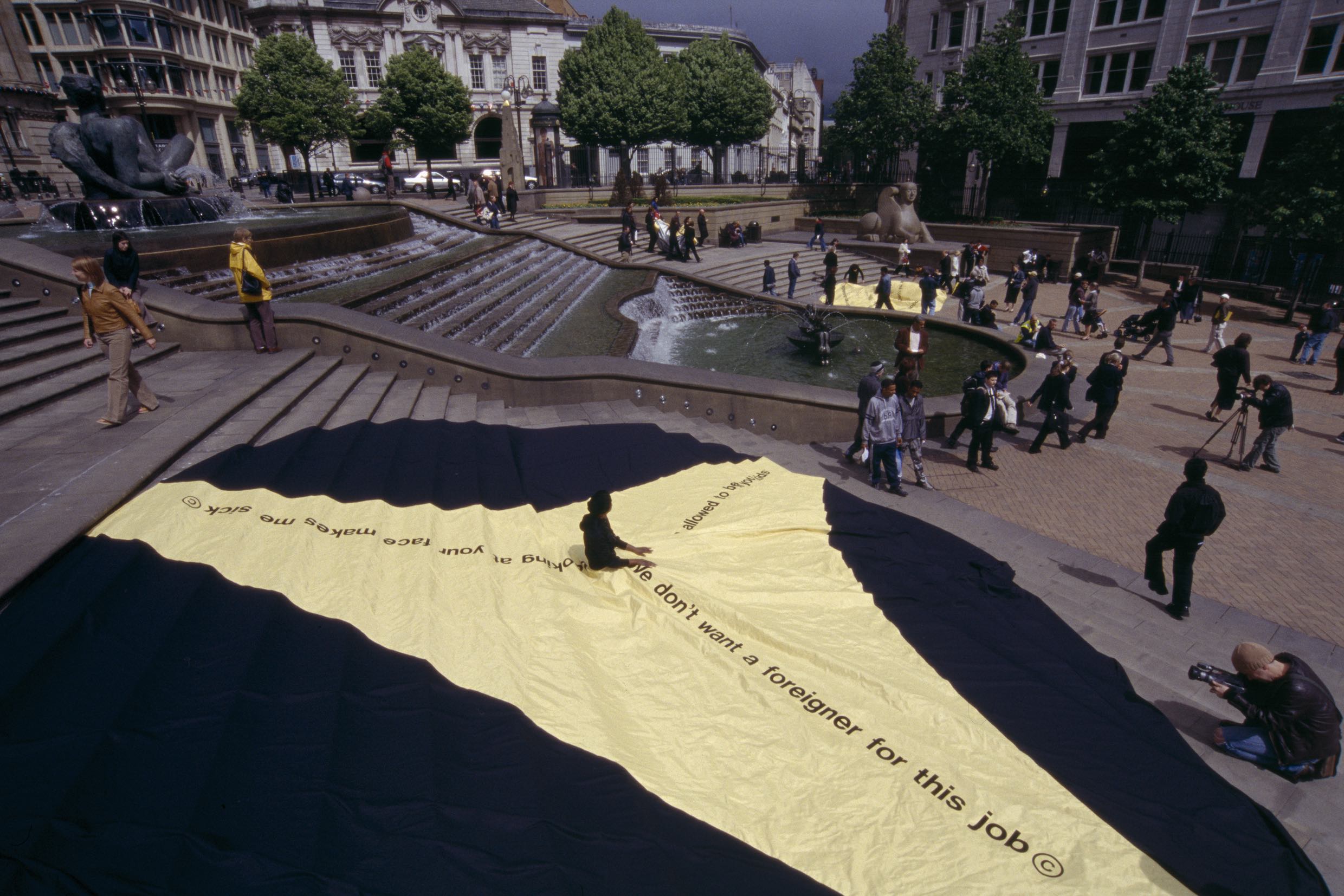 The anti_dog brand was introduced to make women, especially women of colour, feel protected in dangerous neighbourhoods, against skinheads with their dogs and other aggressors. With the introduction of the anti_dog fashion label, Alicia Framis addressed topics like safety, vulnerability, racism and violence, which were high on the global political and cultural agenda, in a highly refreshing way.

Images are courtesy of the artist