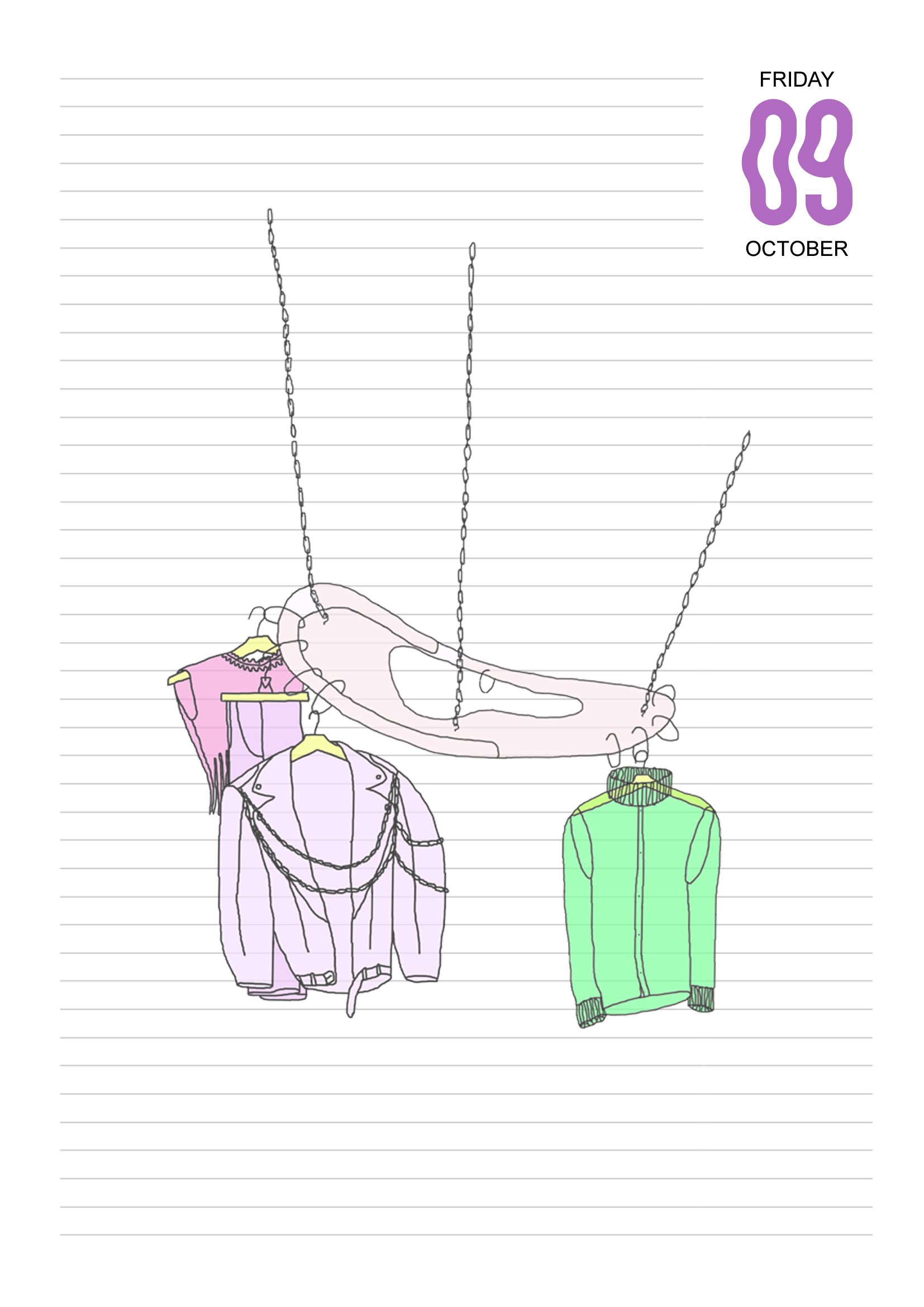 A BOY'S CLOSET

a show by Stefano Serusi
with a text by Contemporary Attitude

from 09.10.2020 to 13.11.2020 - only by appointment
at Rehearsal, Via Gian Battista Passerini 18, Milano

opening days: 9.10.2020, from 6:30pm to 9pm

10.10.2020, from 4pm to 8pm

Due to the COVID emergency, temporarily closed to the public following and will reopen when possible with future extension.
︎︎︎You can download a refreshed press kit of the project here
Rehearsal Project* in collaboration with Contemporary Attitude presents A boy's closet, a solo show by Stefano Serusi.

Through the dreamlike re-enactment of a teenager's room, the artist traces the passing age, expanding furnishings and enclosed spaces.
A site specific intervention recreates the everyday life in a room, using objects and peculiar tastes, is now told as a fairy tale. Colors and decorative elements typical of children's bedrooms guide us into Hans Christian Andersen's memory.
Vision of a growth interpreted with the filter of the dream, through the recurrence of symbolic elements of the Bildungsroman and the cinema derived from it. Fairy-tale, in the punk reinterpretation of styles and colors typical of the Mannerist period, are also the boy's clothes, made by the stylist Manuel Casati.

Hangers, duvets and wardrobes are the result of choices and affections, as of a desire that accompanies the human from infancy to mature age, following the hidden presence of an image in the form of a sentence:

How much of what you love now will you take with you into adulthood?

A poem by Contemporary Attitude introduces the project.
Blue and white drapes of the mother:
The room as a control tower;
Now I see:
Impatient waitings are
Control towers over the world.
Waiting, waiting, waiting
A sweet and slow dying
Of my favourite self-scaring traditions.


Oh, blue and white lights of the evening,
Everything is true,
Everything is allowed
In the dreams in which
I touch the windows and the leaves
In between the windows,
And these leaves from the garden and its trees
Make me fly
Under the basement of a
Never known school:
A Few years of celestial reverences.


I step from one tile to another
And step again, stronger
Because I'm filled with a violent happiness.
Someone is talking to me,
Someone is leading my actions
From a misty countryside
Of nude children like me.
I can see adults fooling around
From my spotless room
While I'm eating a blue and white
blue and white ice-cream of caresses:
self caressing.


I'm a real friend to orphans
Orphans sleeping in my bed:
Oh, childish culture,
-Secret pages of sweet virgin creatures;
Pale hands and little eyes:
The echoing of angels-
You went far away from me
While I was searching for
Fate and pain and truth.
Every call is stronger than us,
Every adult is more important
And more in need of pity than us.
Learn more about Stefano Serusi on Contemporary Attitude here
*Rehearsal Project has been founded in Milano in 2015 as a traveling space; on 2.10.2017 the Association was established and since 26.04.2018 they are located in via G.B. Passerini 18 (Milano) . Through solo and collective exhibitions, the project provides to artists the opportunity to develop and make visible the processes of their research, using the exhibition space as a "showcase studio" and a place where sharing ideas and trajectories, in an attempt to stimulate a dialogue between the artists and the surrounding environment.



A BOY'S CLOSET, installation views and details of the exhibition in a photoshoot by Maurangelo Quagliarella




On the occasion of the exhibition, Contemporary Attitude produced a film by Alessandra Gaglioti, with an original score by Giacomo Vanelli




Learn more about Stefano Serusi in our Archive section here