Zhōuwéi Network
"Embodied Ambitopias"
(screening from 2.12.21 until 9.01.22)
watch the trailer here
︎︎︎︎︎︎︎︎︎
Zhōuwéi Network is an interdisciplinary worldbuilding initiative by the research duo Liminal Vision.
Their collaborative work juxtaposes different worlds set in 2041, each founded on different ideas of a 'good life' or a 'good society'.

These recent series of short films and audio fictions titled "Embodied Ambitopias" (2021) zooms into three worlds through a combination of bodily interactions, speculative interfaces and rhetoric.
The work is produced by Liminal Vision, Victor Evink (s x m b r a) and
Emilia Tapprest
, in collaboration with:
Agnes Momirsk
i | Amal Nincheri |
Amenti Movemeant
| André de Sterke |
Andrei Iovcev (SKLLCHAIN)
|
Anne Don
|
Barbora Dehaen Polcerova (e n c h a n t e d l a n d s)
|
Bartolomé García
|
Boudewijn Scholten
|
Dasha Golova
|
David J. Adán (Doppelgänger)
|
Elia Nebula Vitadamo
|
Enrique Arce Gutierrez
| Ewoud Kieft |
Ezra Vonk (Ezra V)
|
Florian Groeneveld (Airflo)
| Gabriela Guasti Rocha |
Gil 'the Grid' Gomes Leal
|
Jermaine Boasman
|
Jonathan Castro Alejos
| Katerina Tulovchikova |
Leva Zhitskiy (Koyil)
|
Manuela Rusu
|
Mirjam Manusama
|
Oksana Kim (iVoiceU)
|
Ossip Blits
|
Polina Hordievska
| Ruby Chen |
Ryan Hill (Kagami Smile)
| Sayde Garza |
Sea Elegy
|
Serdal Sertdemir
| Thijs Beening |
Thomas Dingemanse
|
Tina Khademi
|
Tricie Bergmann
|
Tzuyu Shen
|
Valerie van Zuijlen
|
Versia Hodges
| Willy van Bragt
✴ Realized with support of Stimuleringsfonds, Digital Culture programme, Sussmann Foundation and the Jan van Eyck academie.
The screening of Embodied Ambitopias and the presentation of Liminal Vision's research represent the first phase of an in-depth ongoing study of their artistic practice and production, curated by Eleonora Angiolini
"In the beginning of the process we asked ourselves: What does the way you move tell about the world you live in? In a later stage, our inquiry shifted from prototyping a speculative world "as such" towards the embedded position and individual character of a subject in relation to that world. In its essence, Zhōuwéi Network explores dynamics between different ideological premises that drive a socio-technical system and their implications on affective, first person experiences of different subjects, including ourselves as makers." (Liminal Vision about the work process and the main purposes behind their research)
Introduction to the three worlds of Zhōuwéi Network
︎︎︎︎︎︎︎︎︎
The worlds in the narrative universe of Zhōuwéi Network are 'ambitopian', aiming to go beyond the binary of dystopian or utopian imaginations. All of them are diverse, ecologically sustainable and post-consumerist, and at the same time, they are driven by fundamentally different principles and dynamics of power.

The decentralised autonomous micro-societies of Project Gecko use the trauma-healing potential of conscious movement to help newcomers overcome internalised paradigms that they carry with them and adapt to a radically different mode of living together.
In Dragonfly, sustainability and inclusion are safeguarded by an NGO that has developed AI coaching and matchmaking software for fragile states, coupled to a basic income programme.

In the 'sparcades' of Dolphin Waves, work has been replaced with play. Big tech platforms pay players for harvesting their behavioural data, which they use to integrate human creative problem solving into AI.
"In the process of worldbuilding we have been iterating back and forth between developing a conceptual understanding of the different worlds and prototyping their dynamics and affective undertones in an experienceable way. The 'moodboarding' method consists of grouping together examples of objects, phenomena, sounds, clothing, architecture and excerpts of discourses into a whole that carries a specific connotation and rhetoric. In turn, we aim to translate the core of these moodboards into cinematic- and audio fiction works in collaboration with other creators including musicians, academic experts, voice actors, performers and fashion designers. We engage with our collaborators largely based on their already existing practice and its particular resonance with a particular world. By extension, we aim to grow into a modular curatorial and collaborative network beyond the narrative universe of Zhōuwéi Network." (Liminal Vision about modular practice and collaboration)
A focus on garments in Embodied Ambitopias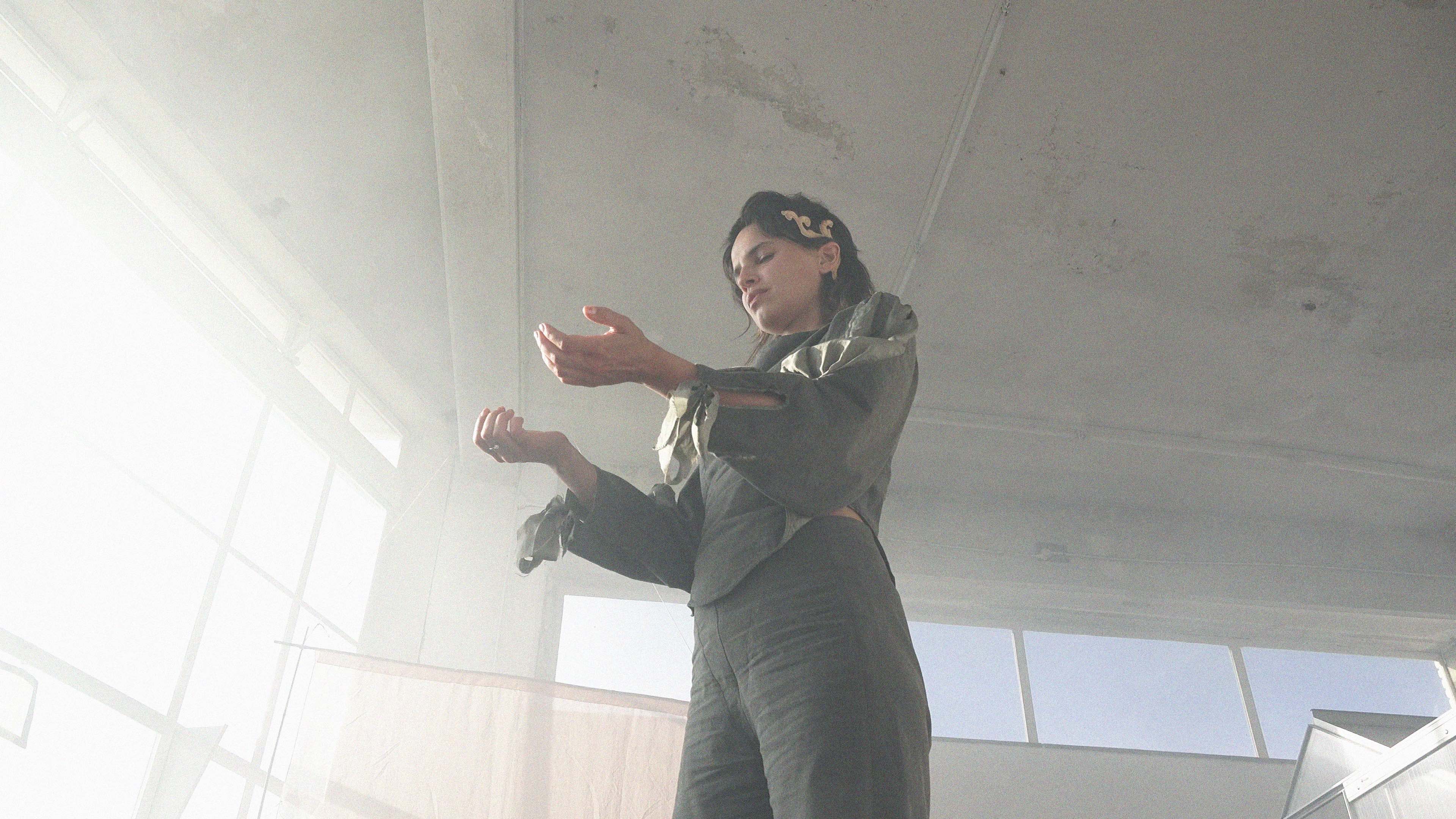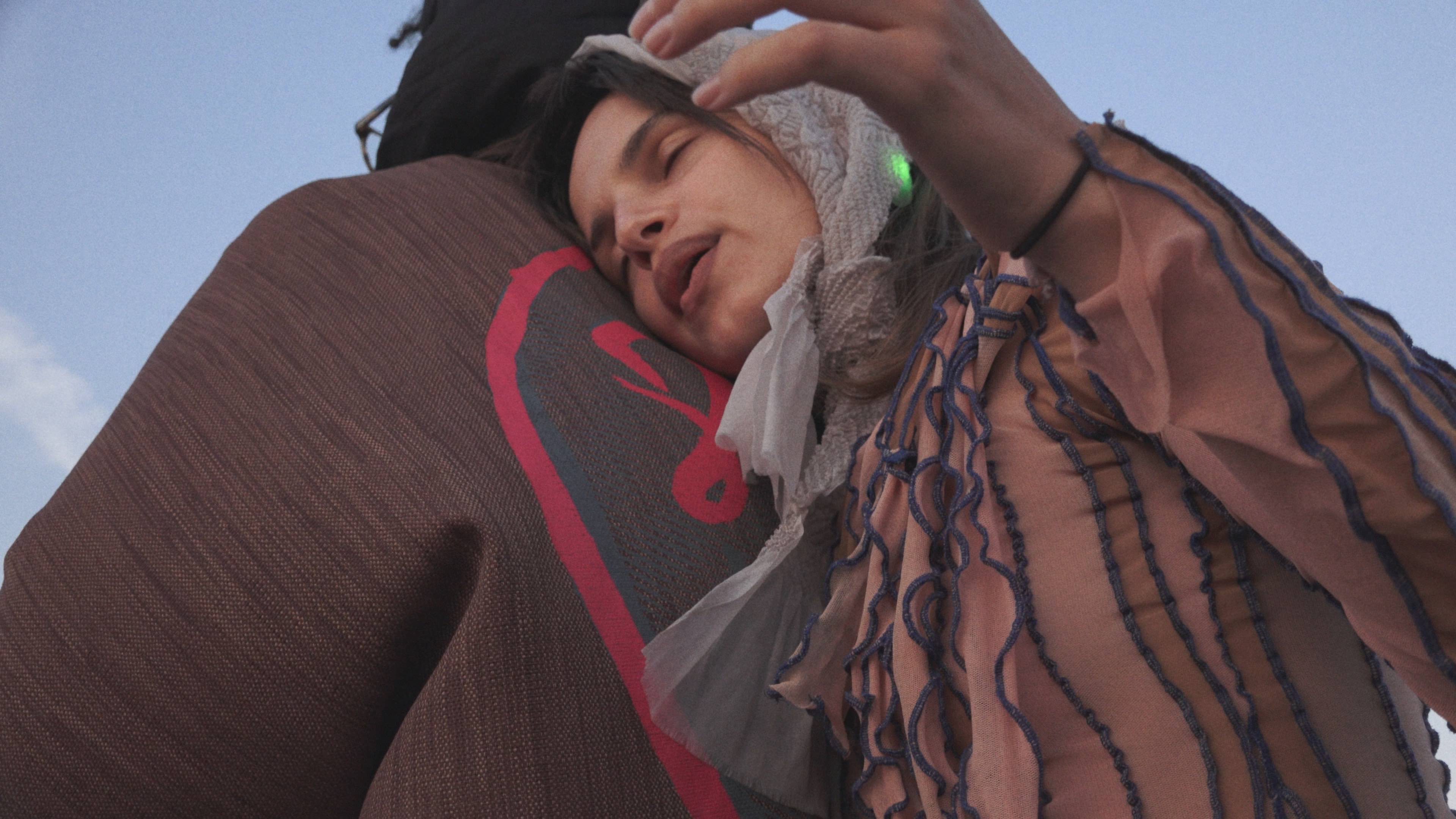 Tent of Presence scenes are a good example of how the every-day fashion of a performer already fitted the direction of a particular world: here fashion designer Darya Golova wears two different outfits designed by herself for everyday use. Re-interpreted in the context of the short fiction, the minimalistic suit and the aquatic, art-nouveau infused dress worn on the bike fitted directly into the vision for what typical Dragonfly clothing might be like: a combination of handcraft, 'disneyfied' folklore and a hint of biocybernetic futurism.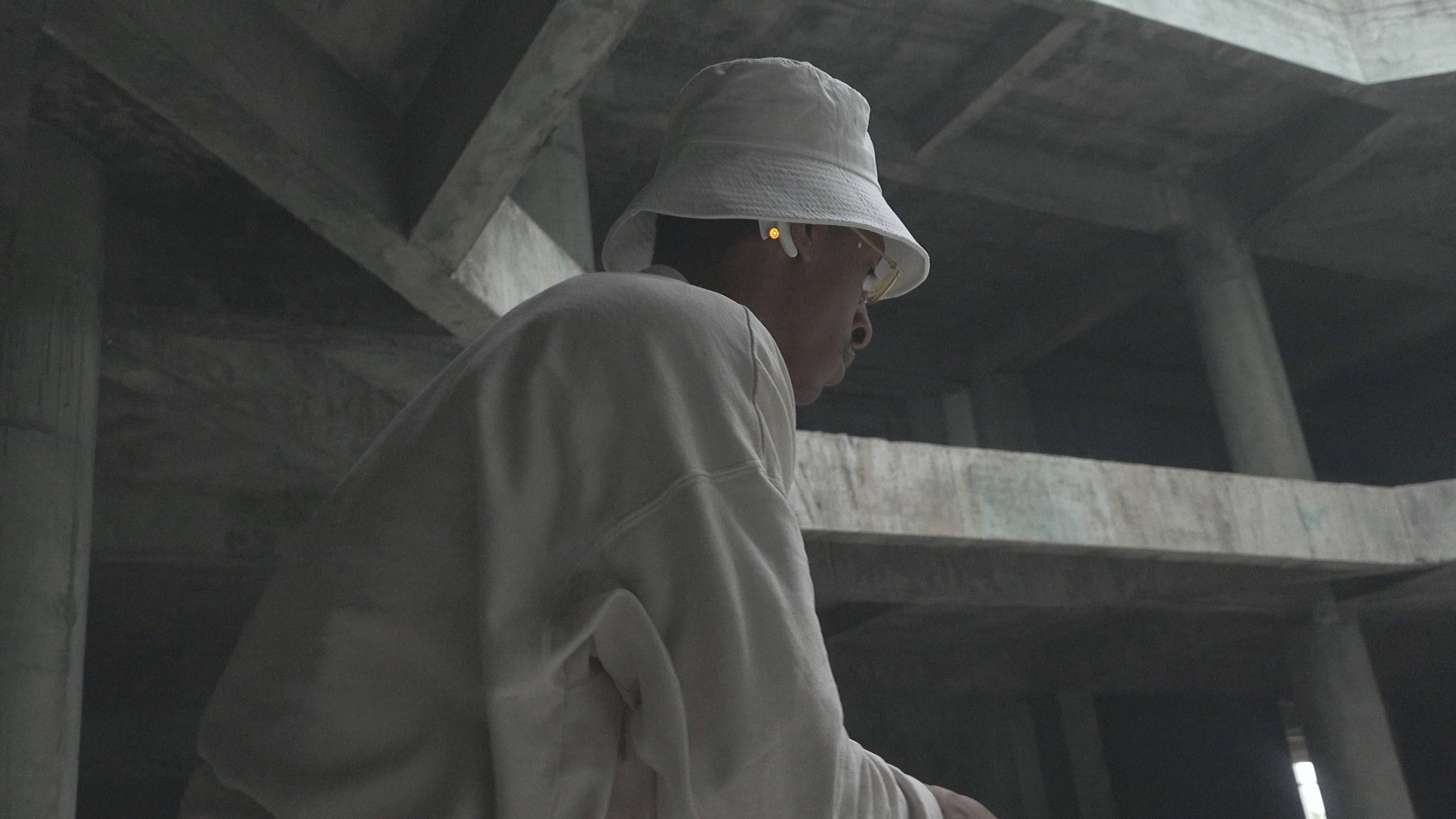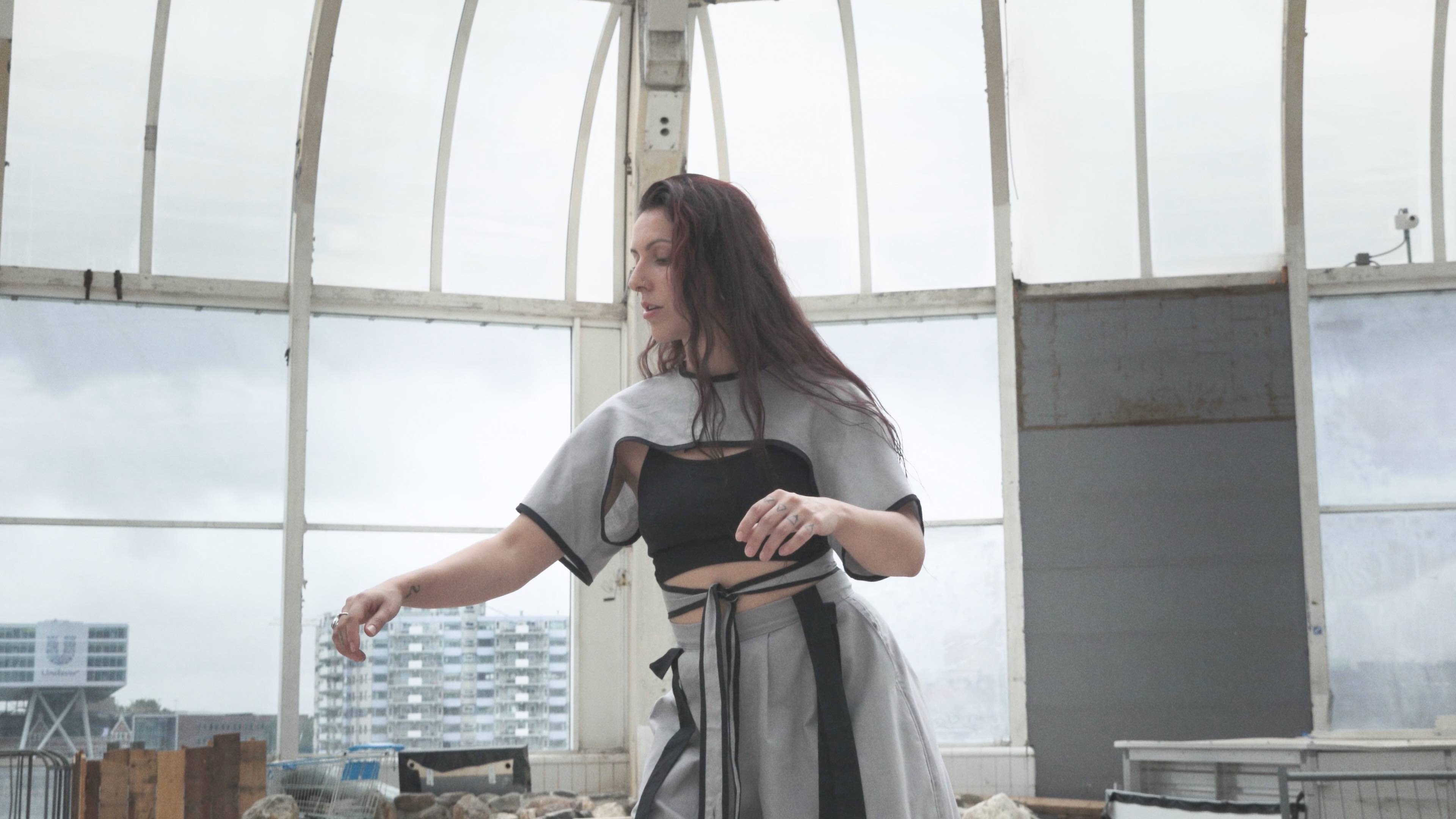 Project Gecko's garment aesthetic was already prototyped in an earlier iteration of Zhōuwéi Network in 2019, including elements such as a ceramic earpiece, face sensors and a light colour palette.
In the beginning of our collaboration with the Amenti Theatre in 2020, we were immediately captivated by the work of their close collaborator Mirjam Manusama. Some of the garments eventually featured in the fiction short The Grid were originally created for a theatrical piece by Amenti called AYAHUASCA, which also deals with trauma healing from an embodied perspective.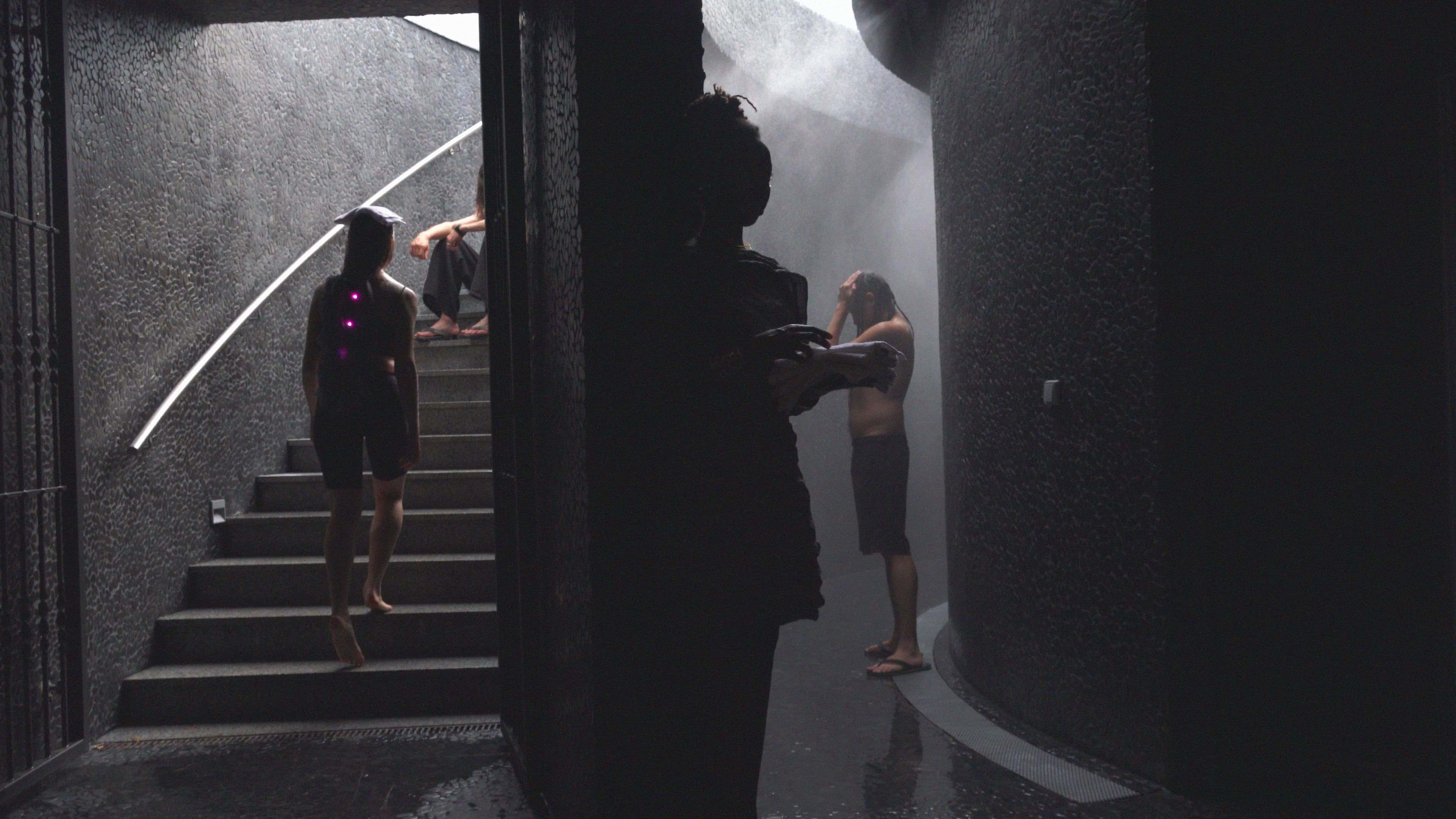 For the world titled 'Dolphin Waves' we were specifically looking for a new version of spinal lights worn by character V in a previous iteration. Tricie Bergmann, a fashion designer inspired by sci-fi and fantasy videogames, LARP and cosplay, designed a 'backpiece' surrounding glowing sensors with an ornamental, dolphin-grey look. The earpiece of Dolphin Waves, designed by artist and jewellery designer Serdal Sertdemir, is metallic, reminiscent of fashion rather than daily technology.
As an attempt to zoom into the positionalities of our different characters, we put more emphasis into their backstories. For example, 'V's independence and capability to play with the logic of her environment in the 2040s Dolphin Waves is drawn back to a person from her extended family who teaches her this modus operandi, narrated as a voiceover in Fluid Motion. Another influence is depicted through her outfit and movements seen in her gameplay, hinting at China's Silk Road economic belt initiative (OBOR) in the Black Sea area. The role of V is acted by Odessa-based dancer Polina Hordiievska (b. 2009)
In Dolphin Waves, wearing a towel on one's head signifies 'playing the game' and embracing its underlying logic. Fei, who is in this scene already physically in another world, still wears the towel as he is unable to leave behind his previous thinking paradigm. On the other hand, in Dragonfly, the fabric that Souvd pulls over herself during an exercise visualises the bodily intimacy of the socio-technical system, the surrounding network, that forms the invisible starting point from where she can explore herself and the outside world.