Abitudine incerta

a project by And What If (Chiara Giordano)
curated by Elisabetta Pagella


mask composed by bioelastic black cotton, three mourning veils, black lace, religious jewels and holy cards, variable dimensions, 2021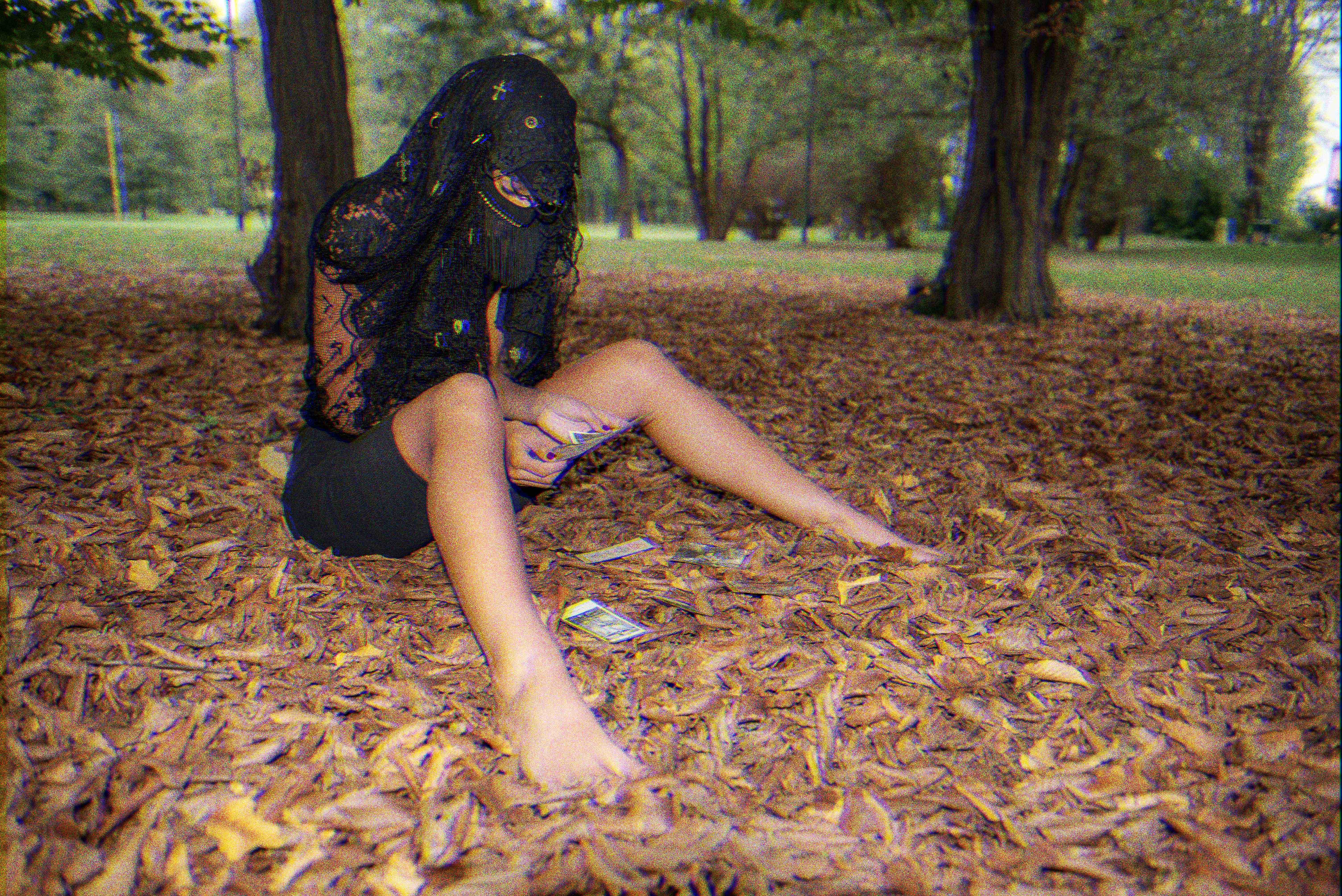 The mask reflects and doesn't hide

The dress has always embodied a status or a social class. The way in which we dress, especially in southern culture, still corresponds to the moral integrity of a person.

The artist And What If reflected on an ancient memory of her maternal grandmother's family: tradition imposed on women, when a loved one died, the so-called "close mourning", that is the obligation to wear a black dress for four years. In addition to the dark suit, a retired lifestyle had to be adopted to publicly demonstrate the consequences that loss had constituted. The solution therefore was to buy new clothes or, otherwise, dye the clothes black. The woman had to lose any aesthetic habit, she had to disappear from the eye of those who could have seen her so she also covered her head with a veil or a black scarf in order to hide the hair that softens the face. The artist's grandmother suffered many mourning, she lived years deprived of the right to live to metabolize the loss in the deepest suffering. The transfer to Piedmont with her husband at the end of the 1950s allowed her to abandon these constricting customs so much that, when the artist asked her if she still had her mourning veil, the elderly woman promptly replied that she had thrown it away as a symbol of too many sacrifices.

From this family bond comes the reinterpretation of the veil through the overlapping of fabrics of different textures that make it more a reason for visibility rather than a way to hide the grief from the eyes of others.

Text by Elisabetta Pagella
---

Chiara Giordano (Nizza Monferrato, 1991). Nowadays she lives and works in Turin; she started her artistic research when she moved to Turin in 2017 and she decided to call it ANDWHATIF due to the different forms it can take.
The main theme of the project is sartorial and artisanal work in order to produce accessories such as masks and clothing.
The aim of her research is to give life to characters in which everyone can immerse themselves just wearing these creations.

Elisabetta Pagella (Bergamo, 1996) grew up on the Lake Maggiore, after the classical studies, started the bachelor's degree in Literature, concluded with a thesis that analyzes the figure of Claudia Gian Ferrari, gallerist, collector and art historian through unpublished materials and interviews with colleagues and artists. The study of this woman introduced her to the artistic movement Novecento italiano and to the contemporary art world.

With the MA in Visual Arts and Curatorial Studies at NABA, in Milan, she has been able to deepen her interests in New-avant-gardes and critical writing but especially in a methodology of analysis and a curatorial approach based on historical archival research.
At the moment she's working at Galleria Massimo Minini in Brescia.