Mamma sto mandando un vocale
ongoing project
by HETRA with
"Wonder the Filter Fish aka WTF2 - a filtering (useless) superherə"
and Eleonora Reffo with
"Caschiamo tutti insieme"
on the right and below:
Wonder the Filter Fish aka WTF2 - a filtering (useless) superherə

Fantastic-jellyfish-antenna-bubble-headgear: curtain, hand fan, cocktail decorations, container cap, aluminium candle container, colander, aluminium binder clips, fabric thread, elastic thread.

Hypervision-triggering-kaleidoscope-glasses: Swimming goggles, plastic flowers, candle tips, contraceptive ring placements, elastic thread + surgical mask

Super-mini-sexy-bikini-shield: surgical masks, fabric thread + silicone gloves

August 2021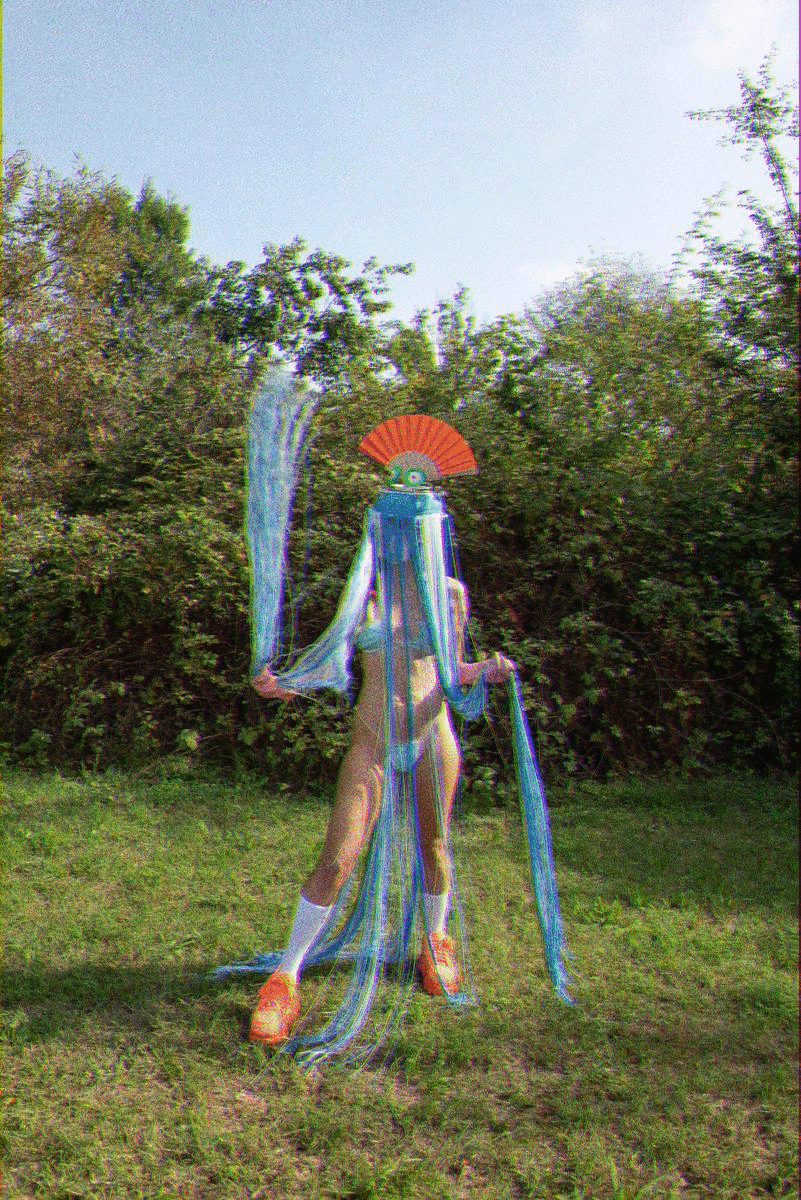 During the 2020 lockdown the web and life algorithms have exaggerated the filtering bubbles in which we are locked, generating new armours. From isolation, Zoom, Tiktok, Instagram, food delivery, super social network democracy, group chats, iper social sharing and fear is born Wonder the Filter Fish aka WTF
2
. A useless, useful, contradictory, coherent, sarcastic, courteous, disobedient, obedient, intersectional, dichotomous, feminist, sexist, ecological, polluting, anti-corona, corona superherə*.
Xyr* armour is the genetic mutation of the surgical mask due to the exposure of the corona-rays. The armor gives xem* protection, weak points and super (non) powers.
The armour hides and shows, empowering (or weakening) to the maximum the person who wears it. It amplifies the new relationships with the face and body of the person who wears it caused by this pandemic chapter.
*This text uses the neutral pronoun Xe and the neutral letter ə.
The armour:
1. Fantastic-jellyfish-antenna-bubble-headgear: Amplify the signal to find bubbles similar to their own, facilitate sharing and connection. The long tentacles are both a defensive and connecting weapon. Everything happens in secret anonymity. Shhhhhhh!
2. Hypervision-triggering-kaleidoscope-glasses: The perspective is filtered, the view blurred. How conditioned are you by what you like? Sometimes it's like being blind.
3. Super-mini-sexy-bikini-shield: a useless armour. It does not protect, does not cover, does not repair. At least it shows the body like a real video game superheroine. JK.
4. Very-ordinary-gloves: You know you wouldn't be super without a nice pair of gloves. Plus, how to wash dishes without it?
Two professionally hybrid figures play with artistic tools and explore with curatorial lenses the design of two imaginary characters. Superherəes born from the pandemic take to the streets discovering the uselessness of the powers they acquired during the lockdown.

The year is 2020 when the bubbles of our protagonists begin to change dangerously. Forced into sudden confinement, the bubbles accelerate their inactivity, which increases dramatically until BOOOOOM! Their bubbles explode to regenerate stronger than before.

The physical dimension of the real is subtracted from the virtual dimension. The latter overwhelms our not yet superherəes: both undergo genetic mutations, inside their own bubbles. There is no going back.

The changes are devastating: the encounter with the invisible enemy, infected hands, laboured breathing and the adoption of new protective equipment. Their perceptive capacities are distorted, their performance changes radically, life will never be the same. Do you hear us? It is the roar of the new Superherəes.

Nobody knows who they are. In front of obstacles they stand still, they do not face the microscopic enemy, they do not act anonymously, their equipment is useless.

Clusters of walking stereotypes. The domestic environment is their ideal habitat and apocalyptic refuge.

The storytelling is changing, the Superherəes are not. Their encounter will produce unexpected scenarios, contradictory stories and explosive endings. Will their cooperation be increasingly useless?
on the left and below:

Caschiamo tutti insieme
the helmet "bolla a introflessione sensoriale"
newspaper sheets, vinyl glue, acrylic paints, worn by a character who exists, but not like us.

Circumference 120 cm approx., height 35 cm approx., 2021


Nuovi soggetti sociali popolano il territorio infetto.
Sono tele-produttori sotto il proprio tetto.
Sono tele-consumatori sotto il proprio tetto.

New subjects rise from the infected territory. They become so much better at working in the bed, at consuming from their sofa, at socializing by staying in their own domestic space. No bed, sofa, kitchen is a secret anymore.

Non hanno lingue per parlare, solo messaggi da lasciare.
Non hanno orecchie per udire, solo una soglia in cui finire.

They are accepting the new social dynamics, they conform and repeat themselves in the name of order and functionality. They fear the air they breathe, they delegate to the remote: e-mail addresses, social accounts, chats.

Dietro una serie indefinita di maschere digitali, i loro corpi organici agiscono lontani.
Non hanno pelle con cui esperire il sole; non sono alla ricerca del dimenticato tepore.

Boundaries are ambiguous, unclaimed, overlaid, forgotten, never remembered.

It is physically and psychologically exhausting to be in front of a screen all day long; it is physically and psychologically exhausting to be in front of a screen all day long especially looking at themselves.

---
Hi I'm HETRA, for my Earth family my name is Giovanna Schivo.
I am an inhabitant of planet hetra-12, I presume I'm on Earth due to an accident.
Here the polluted present is identical to the past of my planet. Deeply in shock, I decided to do anything to help earthlings, cause now I'm one of them. From here it was the beginning of my artistic and life practice, focusing on the ecological issue, the postcolonial, the debate on gender identity and language. I believe in a dynamic approach, mutant, always evolving, against dichotomies.

Eleonora Reffo (Padova, 1997) is an independent curator. She obtained a BA Degree in Painting and Visual Arts at NABA in Milano, where she is finishing her MA degree in Visual Arts and Curatorial Studies. Since 2019 she has been collaborating with cultural realities in the province of Padua. She is involved in the realization of multidisciplinary projects aimed at heterogeneous audiences. In 2021 she starts writing for Juliet Art Magazine.